Chapter Eight
It didnít take long after the New Year for events to unfold. In March of 1950, Bugs and Helen got married. Helen was just 19-years old and in those days the legal age was 21, which meant she needed permission from her parents. There was a slight complication, however, it seems that Helen was pregnant.
They went to Monsignor Rector at St. Anthonyís Catholic Church for the marriage ceremony, but he wouldnít marry them without telling her parents, who were living in Tucson, Arizona at the time. A phone call to Frank and Lillian Mininni and the happy couple were married.
One other little bit of information; they had a co-conspirator. It seems Bugs had to sneak some clothes out of the house on Adams Street because he didnít want mama to know he was getting married. She would have thrown a fit if her blue-eyed baby left her. I managed to get Bugsí bags out of the house and the happy couple got hitched without a hitch.
Anna Carrocci was very angry when she found out that Bugs and Helen were married. She didnít like Helen for years afterwards. It was about 10 years before she finally accepted Helen and gave her a wedding present.
I went out for spring training for Steuben-ville High Schoolís football team. I had made All-City guard the previous fall and did very well. At the end of the training period, I was playing second string varsity guard, right behind a guy named Calvin Jones. Jones went on to get a football scholarship from the University of Iowa and became an All American in 1953. But my Big Ten aspirations were not to be.
In June of 1950 Pete Carrocci returned to Steubenville and made arrangements for Anna, Theresa and I to move to Tucson. Pete was the only
one who was happy about that idea. There was a lot of crying, moaning, groaning and gnashing of teeth, but to Tucson they all would go. I asked each one of my married brothers to take me in so I could stay in Steubenville, but no one would do it. The animosity between father and son continued to grow.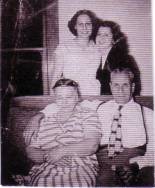 Be that as it may, the plans for leaving were made and a going away party was scheduled. Theresa said goodbye to her best friend Rosie Bevalaqua and posed for pictures with Pete and Anna. All the sons, daughters-in-law and grand-children were at the house on Adams Street to say farewell.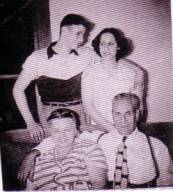 The four travelers managed to put on smiles for the camera that last night at their old home. The next day they packed up their belongings, hitched up a four-by -five foot trailer to the old Plymouth and headed west. The speed limit in those days was 50 miles-an-hour and it would take about four days to reach Tucson, Arizona. Mama, Theresa and I had no idea what was waiting for us.
The most vivid memory of that whole trip was the heat. As they left Ohio in late June it was hot and humid. As they got to the Midwest it was hotter and even more humid. When they got to the southwest it was just plain hot. That should be hot with a capitol H. The old car did not have air conditioning, so the windows were always down. The only cool water on the trip was from a desert water bag that hung on the front of the car. The evaporation cooled the water.
Pop was the only driver: Theresa was old enough, but didnít have a license and at 14-years old, I was too young. It seemed like the trip took forever, especially with three unhappy people. Mama because she was leaving all her children, grand-children and friends; Theresa and I because our young lives were being ruined (we thought).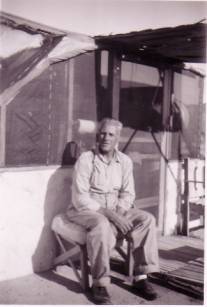 Anna, Theresa and I almost fainted the first time we saw the tent in which pop was living. We couldnít believe we had given up a nice, big house for such a Spartan hovel. Besides, it was June 26, 1950 and it seemed hotter than hell.
There was a bit of good news for mama and Theresa; they were going to live in a small trailer that was across the dirt road from the tent. The trailer had a small evaporative cooler which kept it cooler than the outside air and which also added some humidity.
There was very little money and the little family was barely scraping by. We did the only thing we could and that was for all of us to go to work. Pop continued selling the Watkins Products; mama got a job washing dishes at a restaurant not too far away; Theresa got a job at a small cafť in downtown Tucson; and I got a job as a ranch-hand on a small ranch nearby.
The ranch had about a dozen or so cows, but a lot of barbed-wire fence. I really thought I was going to be a cowboy, but all I did was fix fences. They gave me a bag of staples, a hammer, a pair of side-cutters and a roll of barbed-wire. My job was to walk along the fence, tighten any loose wire, and replace the lost wire. I was some kind of cowboy. I did get to ride a horse twice when they had to move some cows.
Sleeping in that tent was another unique experience. We used army surplus cots for beds. Every morning we had to shake out our shoes to make sure no scorpions got into them during the night. There was one small, bare electric bulb for

light.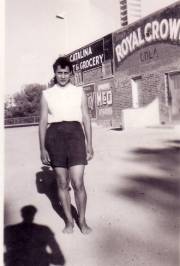 All that hot, miserable summer pop, mama, Theresa and I pooled our money and slowly began to gain our way back to solvency. By the middle of August we had saved enough money to rent a small furnished apartment on South Sixth Avenue on Tucsonís south side. It was a two bedroom place; one room for pop and mama and one room for Theresa, who is pictured here. I slept out on the couch. It was a lot better than that miserably hot tent and tiny trailer.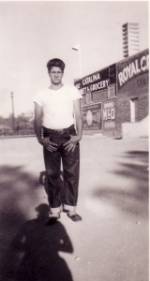 In the background of this picture of me, you can see the Catalina Market and Grocery. The owners of that small store were a couple of German descent and were Catholics. They talked me into being baptized at a church nearby after I had taken Catechism. I was 14-years old when that happened and when this picture was taken. Pop never said a word about it.
The financial situation continued to improve and we moved again, this time to Liberty Avenue about six blocks to the west of our little apartment. The new apartment was a little bigger, but it still had only two bedrooms. Guess who slept on the couch.
Everyone continued working: papa the door-to-door salesman; mama the dishwasher; Theresa the waitress; and I, no longer a cowboy, got a job pumping gas at a service station nearby. The little two pump station was on the northeast corner of Liberty Avenue and Ajo Road.
The station sponsored a stock car, which raced every Saturday night at the quarter-mile dirt track at the Pima County Fairgrounds. It wasnít long before I was in the pit crew, changing tires and making sure there was enough gas in the tank for the upcoming race.
On Sundays, I would help the mechanics tear down the engine of the race car and get it ready for the weekend races. In hardly any time at all, I was a fairly good mechanic myself. Those old flat head engines werenít as complicated as todayís over-head valve motors.
Popís health continued to improve. He was a different man; he had lost a lot of weight and was maintaining a very healthy diet. He was growing stronger every week. His recovery was so good that he managed to get a job at Hughes Aircraft Company at the big plant south of town.
It didnít matter to any of us that pop was a janitor. He now had a good job with a good income and benefits and life got steadily better. Mama quit working and stayed home to take care of the family.
Theresa was attending Tucson Senior High School and I went going to Wakefield Junior High. No football for me. The school didnít have a tackle football program, just flag and that wasnít good enough for this would-be star. I did play on the baseball team the spring of 1951.
Mom and pop finally sold the big house on Adams Street in Steubenville. Son Joseph Anthony bought it and the old house stayed in the family.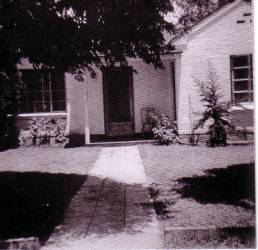 The finances of the Pete Carrocci family improved so much that mom and pop were able to buy a small two-bedroom house at 202 W. Veterans Blvd. on Tucsonís south side.
The house had one bedroom on the east front part and one on the east back side. There was a bathroom with a tub and shower also on the east side. There was a small living room right inside the front door and a small kitchen behind that. In the back of the house was another small room and thatís where I slept. A large evaporative cooler kept the house livable in the desert heat.
Pop had a small garden and a small work shed in the backyard, along with a grape trellis and small swing. Life was good, again. It was just on a smaller scale.
Back east, the grandchildren of Pete and Anna continued to increase. Robert Ray was born to Julie and Virginia on August 22, 1950 and Patti was born to Benny and Lucy on February 21, 1951.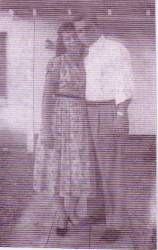 It was during 1952 that Theresa Ann met Bob Bell and fell madly in love. Bob was from South Haven, Michigan and was stationed at the base at Marina, Arizona while in the Air Force. He liked the area so much that he decided to stay. Theresa and Bob were married October 18, 1952.
Bob was an electrician for Arizona Maintenance Company, an outfit that sold and installed evaporative coolers. Theresa became pregnant and decided to quit high school. Their first child, David Lee Bell, was born September 6, 1953.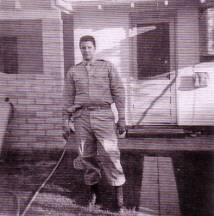 In 1953 I joined the Arizona National Guard. One of my buddies at high school, Jack Lyons, lived next door to the Commanding Officer of the unit and he talked Jack and me into joining. The unit was a tank company and had M-4 Sherman tanks from WWII. I spent the first weekend climbing around the tanks and getting generally filthy and decided there must be some-thing better to do. I also pulled K-P. During the following drill I joined the mess section and became a cook.
In Ohio, the number of grandchildren continued to grow. Noreen Marie was born to Bugs and Helen on October 3, 1953.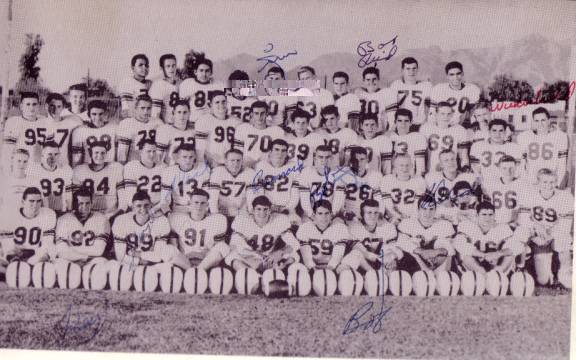 In my senior year, I decided to play football again and was surprised to make the varsity team. Thatís me on the left side, number 94. I played offensive left tackle and defensive tackle and linebacker. The team had been state champs the year before, but couldnít repeat. One of the players was declared ineligible for being over the age limit and we had to forfeit the first four games, which we had won.
I didnít win any honors playing ball, but the coaches did manage to get me a half-scholarship to a small California school Iíd never heard of. Where was Pepperdine College anyway? It didnít matter; I couldnít afford to continue my formal education.
On Valentineís Day 1954 I took Marcia Rae Sgutt to the school dance and we dated steadily the rest of the school year. After the senior prom we went our separate ways.
I graduated from high school in June of 1954 and shortly after went to the U.S. Army Food Service School at Fort Ord, California. I finished the eight-week course on August 15th and was third in the class.
That December I got a job at Hughes Aircraft as a machinist trainee, thanks to Popís connections.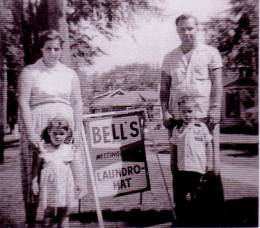 Also in í54, the small Bell family moved to South Haven, Michigan, where Bob and Terry opened a Laundromat. Robin Ann was born on November 20th of that year.
They worked hard for a few years trying to make the small business go, but Bob eventually had to get another job to make ends meet. They finally closed the Laundromat and moved back to Tucson. Theresa worked at a doctorís office and Bob worked as an electrician.
In January of 1955, Tina Carrocci was born to Julie and Virginia. They now had two girls, Tina and Signa Jean and one boy, Robbie Ray.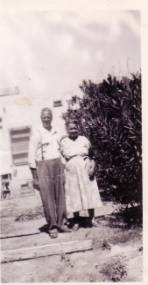 Pete Carrocci was thriving by the mid-50s. He was healthy and strong. His little garden was flourishing and once again providing greens, beans and fruit for the table. There was a fig tree and an olive tree in the back yard. He said it was almost like being back in Italy.
There were even friends around with which to discuss various topics. One man in particular believed the earth was flat and Pete would spend hours trying to convince him otherwise.
There were also trips to Mexico to buy some special booze that Pete like. He would get pure grain alcohol and mix various flavored extracts, such as coffee and mint. The stuff was more powerful than grappa, but he would sip little shots.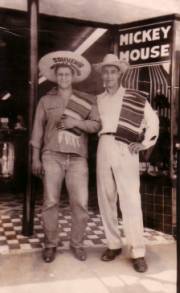 Going to Nogales, Sonora, Mexico was a favorite thing when Pete and Annaís sons came to visit.
Hereís Julie and I posing in front of a curio shop in Nogales. The gift items were cheap and so was the liquor. It was easy to stock up on scotch, rum or bourbon before heading back to Steubenville, Wintersville, or Weirton.
It was usually just the boys who made the 65 mile trip south to the border. The women stayed in Tucson to do other things.
The Larry Martin family continued to grow. Michael Paul was born November 22, 1956 and Keith Martin joined them October 21, 1958. By this time, Larry was running a foundry in Mansfield, Ohio.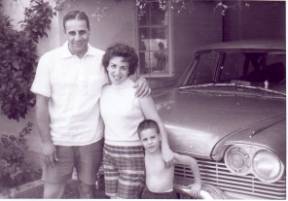 Joseph Peter Carrocci was born July 8, 1957 to Joe and Dodo. They are shown here on a visit to see Pete and Anna in Tucson. It was a long drive from the Ohio Valley to Tucson and not all the sons could afford to make the trip.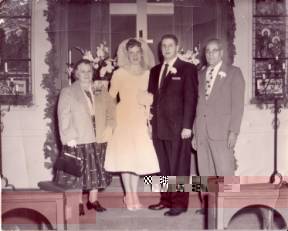 In January of 1957 I married Shirley A. Gilliland of Tucson. Now the last of the Pete and Anna children was married and out on his own. For the first time in their marriage Pete and Anna were living alone.
They had a nice house and a nice garden. By this time, Pete had retired from Hughes Aircraft Company. With a small pension from Hughes, the small medical pension from the mill, and social security they could make ends meet.