Chapter Seven
Some time during 1945, Peter Carrocci became severely ill with asthma. He had extreme difficulty breathing and had to use atomizers to spray into his lungs to help relax the air passages. His condition got steadily worse over the next couple of years. Both Theresa and I were enlisted to give him adrenalin shots in the arm. It got so bad that he had to have a shot every hour.
Finally in 1948, the doctor told him that his only chance of living was if he moved to Tucson, Arizona, where the climate was very dry. Thatís when he and Bugs loaded up the old 1937 Plymouth sedan and headed for the southwest.
By this time, Pete had a medical retirement from the mill along with a small pension. Money was getting tight in the Peter Carrocci household. The garden went to seed and food also started to get scarce. The sons helped out financially as much as they could, but times were getting tough.
It took Peter and Bugs about three or four days to get to Tucson, where they found a group of Jehovahís Witnesses.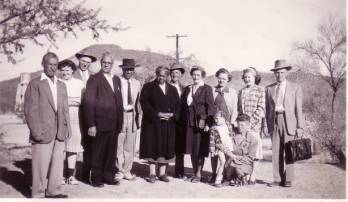 Someone in the group found a small piece of land on the west side of Tucson, near A-Mountain, where Pete could set up a WWII army surplus squad tent in which to live. Bugs stayed with him until they had put up the tent and made conditions at least somewhat livable before heading back to Steubenville on the bus. There was a waterline nearby as well as toilet facilities. The tent wasnít much, but it was enough for him to sleep in and make meals of mostly fresh fruits and vegetables.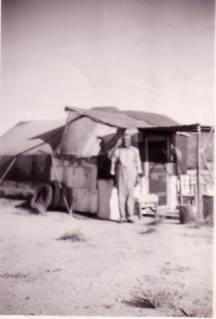 One thing for sure, Pete Carrocci was one tough hombre, as they say in the southwest. He started over from scratch at age 59 and that takes a lot of intestinal fortitude, especially under such dire circumstances. Tucson in those days would get to be 110 to 115 degrees with five to ten percent humidity in the summer. That is hot and dry. In the winter the temps would drop into the low 40s and sometimes the low 30s. Occasionally, it would even snow in November. The average rainfall was about 13 inches a year, most of it coming during the monsoon in August.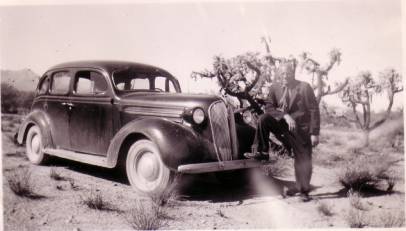 Pete had his 1937 Plymouth sedan which is what he used to make some money. He got a job selling Watkins Pro-ducts door-to-door. He didnít make much cash, but it was just enough to buy the meager food supplies, clothes and gasoline that he needed to survive.
The important thing was his health. The longer he lived in Tucson the better his health became. The dry desert climate was saving his life. In 1948 he went to Tucson to die and instead began to

thrive. You just have to admire a person who has that much will to survive.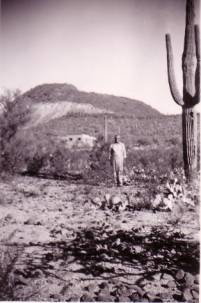 Here is a picture of Pete Carrocci with A-Mountain in the background. It was called A-Mountain because of the University of Arizona. Each fall the freshman class would climb A-Mountain and paint the big A white.
Tucson had less than 40-thousand people at this time and very few of them lived near A-Mountain. Most of the population was centered around the downtown area, to the north, east and to the south of town. There were very few people living on the west side of Tucson at that time.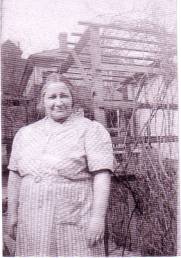 Meanwhile back in Steubenville, Anna Carrocci was eking out an existence trying to keep food on the table and pay a few bills. She took a job washing dishes at Isalyís Ice Cream Parlor. Theresa was babysitting and I did all sorts of odd jobs. I would go door-to-door asking people if I could cut their grass. I caddied at Le Belle View Golf Course. And I set pins at the bowling alley over the Krogerís Grocery Store on Adams Street. I even worked at a cigar store reading the ticker tape and writing baseball scores on a blackboard for the bettors to see. Bugs was living at home and was a big financial help. Larry was also at home and helping out.
It was mama Carrocci who held the shrinking family together. She held that dishwashing job, she cooked, cleaned, washed and ironed the clothes, and
took care of renters who had the upper-front apartment of the house on Adams Street.
On November 9, 1948 Candice Lee was born to Joe and Dodo. Things were heating up between Bugs and Helen.

Larry Martin was working hard and studying and dating a young woman named Jean Yoder, shown here on the left.
By the end of 1949, Theresa was going to Steubenville High School and David had finished a successful football season at Grant Junior High School. From their point of view life was good, but once again, that was about to change. 1950 would bring more big changes for the Carrocci family.
Another tragic event that happened at the end of the 40s, Uncle Larry died in a coal mine accident in Steubenville. It happened on May 24, 1949. Aunt Selma was seven months pregnant.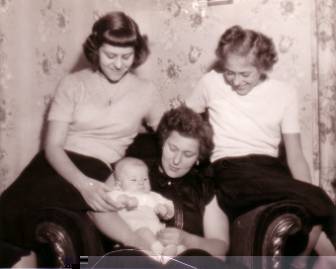 Uncle Larryís son, Larry Peter Carrocci was born on July 29, 1949.
Pictured here shortly after his birth are Aunt Selma, Francis Ann on the left and Teets on the right. Aunt Selma now had her hands full raising two teenage daughters and an infant son.