Chapter Four
Pietro and Anna were living in Steubenville, Ohio after his return for the third time from Italy in 1920. With them were Mary, Benny (Annaís two children from her previous marriage), and young Dominic. Pietro, who officially was known as Peter, adopted Benny about this time, but he never gave Mary his last name.
After that the children came fast and furiously. Marie Carrocci was born June 4th, 1919. The word in the family was that she was not a healthy baby and that she died on February 11th, 1920 of respiratory failure (pneumonia). Some in the family said this daughterís name was Virginia, but the records at the Office of Vital Statistics for Jefferson County list her name was Marie. Sheís buried in Mount Calvary Cemetery in Steubenville, Ohio.
Joseph Anthony Carrocci was born on March 13th, 1921. Joe enjoyed good health for the greater part of his life. He died of stomach cancer on September 15th, 1993 and is also buried in Mt. Calvary.
Next came Julius Caesar Carrocci, who was born on February 12th, 1923. Julie died of colon cancer on December 22nd, 1968 and heís buried in Mt. Calvary.
Dominic Carrocci, the son born New Yearís Day 1918 died on April 2nd, 1924. He was a victim of heart problems. He also is buried in Mt. Calvary.
Albert Carrocci was born on June 5th, 1924. Albert was another victim of diphtheria. He died on October 26, 1931. He, too, is in Mt. Calvary.
Dominic James Carrocci was born January 26, 1927. Bugs, as he was fondly known, passed away September 6, 2003 after a bout with leukemia and is buried in Mt. Calvary.
Larry Martin Carrocci was born November 7, 1928. Larry died of colon cancer on January 18, 1988 and is buried in Mansfield, Ohio.
Theresa Ann Carrocci came on September 15, 1933. Terry died of complications of leukemia on November 2, 2000 and is buried in Tucson, Arizona.
David Paul Carrocci was born on December 11, 1935 and now lives in Phoenix, Arizona.
These, then, are the sons and daughters of Pete and Anna, as they were commonly known. Annetta was the name she used on official documents.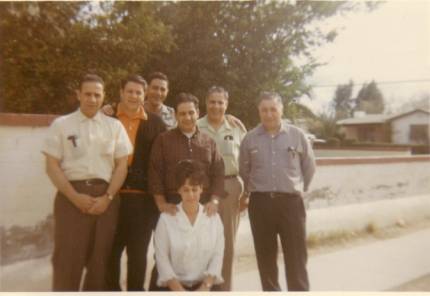 Here is a picture of the Pete and Anna Carrocci children. They are from left to right: Joseph Anthony, David Paul, Julius Caesar, Dominic James, Larry Martin, Benny Raymond, and kneeling in front is Theresa Ann. Only Mary is missing. This picture was taken in June of 1963.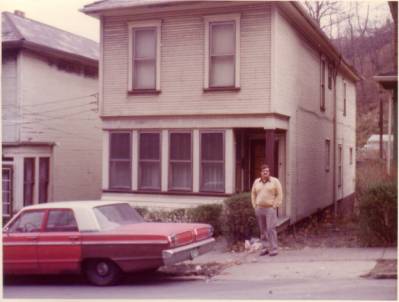 All of the children were born at the family home that used to be at 1020 W. Adams Street in Steuben-ville, Ohio. The house burned down in 2003. In the picture at left Iím standing in front of the house in 1978.
Domenico Carrocci, Peterís father, died sometime around 1930. We thought it was in Steubenville, Ohio, but there is no record there of this death. Word is he was killed in a coal mine accident. Delores DoDo Montebello, the wife of Joseph Anthony Carrocci, told me that Domenico was buried in Mt. Calvary Cemetery, but I could find no record of him in the cemetery office or in the Office of Vital Statistics for Jefferson County.
Thereís an interesting story that his daughter Angela told to a man I met during my 1984 trip to Caulonia. I also heard the same story from a cousin, Eleanora, whom I first met during the same trip. It seems Domenico wanted to bring his wife Fortunata to the U.S. He sent her money for passage. Fortunata, however, had a different use for the money; she used it to help her daughter Maria get married. Domenico was so angry that he never returned to Italy nor did he ever write to Fortunata again.
More about the house that stood at 1020 W. Adams Street in Steubenville, Ohio. Peter was quite the handyman and could handle all kinds of carpentry, bricklaying, plumbing and electrical jobs. Sometime during the 1920s he added rooms on the back of the house. He added a basement kitchen, which was used for canning all the fruits and vegetables he grew in his garden, a kitchen on the next floor above, and a bedroom on the top floor. The house had five bedrooms and a bathroom upstairs, a kitchen, dining room, family room, formal dining room, and a sun porch on the main level. In the walkout basement, aside from the kitchen, there was another bathroom with a shower, a huge coal-fired furnace, a wine cellar and a coal cellar.