Chapter Three
In the year 1910 we know that Pietro Carrocci was working as a coal miner in McDowell County West Virginia. One would imagine that if he had come to the U.S. to work in the mines, he had to stay the full length of his commitment, however long that might have been. There are some interesting events concerning Domenico and Pietro Carrocci.
The reason Domenico Carrocci was not in the 1910 census was because he wasn't in the U.S. at the time. He was in Italy. This is certain because Domenico's last child Caterina was born on the 14th of August 1911. This means that he must have been back in Caulonia at least nine months before, probably even earlier than that. What we do not know is why Domenico went back home.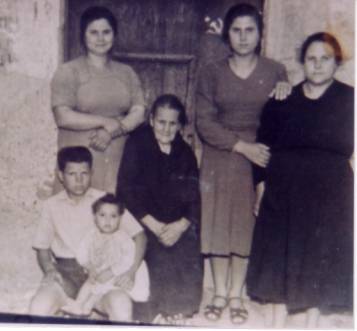 Here is the only picture we have of Domenico's wife, Fortunata Lopresti Carrocci. She's the one sitting down in the center of the photo. Top left is her next-to-the youngest daughter Angela Carrocci Cavallo. In the middle of the back row is Angela's oldest daughter, Maria Cavallo. On the right in the back is Fortunata's sister Mele. In the lower left is Nimms, Angela's son, who immigrated to Australia. On his lap is Rose, the daughter of Domenico's son Antonio.

We also know that Pietro Carrocci was back in Caulonia during either all or part of that time. We know because Pietro came back through Ellis Island on May 27, 1914. Once again the immigration officials got the name of the Place of Residence wrong.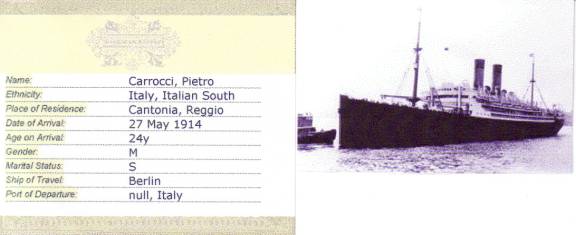 The name of the ship that Pietro arrived on was The Berlin. It was built in Germany in 1909 and was listed as 17,323 gross tons. It carried 3,212 passengers: 266 in first class and 2,700 in third class. The Berlin was quite a bit larger than the Prinzess Irene, the first ship that Pietro took to the U.S. He was becoming a seasoned traveler.
What we don't know about Pietro is when he went back to Italy after arriving in 1906 or if he went back with his father, Domenico, sometime before 1911.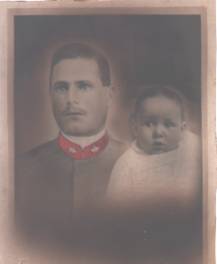 Here's a picture of Pietro that hung the house at 1020 W. Adams Street in Steubenville, Ohio for years. Pietro said it was of him when he was in the Italian army. It could have been during the period when he was in Italy before his second arrival back in the U.S. in May of 1914. Once again, this is a composite picture. The infant could be Pietro's first son Dominic, who was born January 1st, 1918. Pietro never talked much about being in the army, or of his travels back and forth between Italy and the U.S.
About a year after Pietro came back into the states he was followed by his father Domenico and his younger brother Ilario. You'll notice that the immigration officials misspelled their first names and the name of hometown.

We also have a picture of the ship Domenico and Ilario came in on, Duca degli Abruzzi. The ship was built in La Spezia, Italy and was rated at 7,838 gross tons. It could carry 1,836 passengers: 80 in first class; 16 in second class; and 1,740 in third class.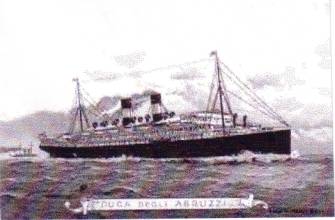 By the end of June 1915 we have Domenico Carrocci and his two sons, Pietro and Ilario, back in the U.S.A. They are the only members of Domenico's family to come to the U.S. We think that during this time the three were living somewhere in West Virginia or maybe even in the Ohio Valley.

Also about this time, according to a family friend, at least Pietro and Ilario were in the bootlegging business. That family friend was compare Larry Tucci, who also was from Caulonia.

When my wife Marcia and I used to visit the Phoenix area long before we moved here, we used to visit with Larry Tucci and his wife Minnie. It was during one of those visits that Larry Tucci told me about Pietro's bootlegging days and he said Pietro was a heavy drinker. He never mentioned Domenico being involved, so it must have been just Pietro and Ilario. Perhaps the two were bootlegging West Virginia moonshine, but probably they would travel to Lake Erie to pick up booze from Canada. A lot of contraband liquor came through the port at Ashtabula because it was the shortest distance between the U.S. and Canada.

Let's assume for the moment that the boys were going to northern Ohio, to Ashtabula, to pick up a load of liquor and take it back to West Virginia or to the Ohio Valley. It would be logical to assume they had a truck with which to haul the contraband, a truck furnished by the person for whom they worked. It also seems logical that Pietro and Ilario would need a place to stay while they were in Ashtabula.

It just so happens that Annetta Siciliano Basil was either living in or running a boarding house in Ashtabula during that period. She had two children by that time: Mary, who was born in 1908; and Benjamin Raymond, who was born October 7, 1914. No one knows or would say where Annetta's husband was during this time. We don't know if he died or if they were divorced. Divorce wasn't a viable solution to marital problems in those days, so that might not be a possibility. By the way, the researcher could not find birth records for Mary or Benny in Ashtabula. The only death record she could find for a Basile was of an Alfonso Basile, divorced, who died about 1925 at about 50-years old. Would someone named Alfonso be called Tony?

My brother Domenic James and I suspect that Pietro Carrocci met Annetta Siciliano Basil at that boarding house sometime around the year 1916. We have no idea how many times they met or when they decided to get together, we just know that they did. They must have married sometime during that year or during the first quarter of 1917 because their first child, Dominic, was born on New Year's Day 1918.

Another interesting note about Pietro is that he must have returned to Italy a second time, unless there's another Pietro Carrocci from Caulonia, Reggio Calabria. The Ellis Island immigration records show him coming into the U.S. a third time on October 4, 1920. Why he went back and forth so many times is still a mystery. He never mentioned going back a second time, yet here is the passenger record and a picture of the ship.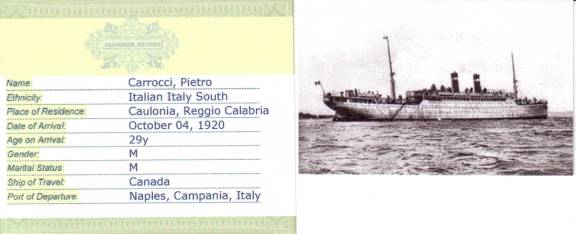 All the information is correct, except the age. Our Pietro Carrocci was born April 2, 1889. He would have been over 30 years old instead of the 29 listed on the passenger record. Did the infamous Ellis Island immigration officials strike again? Perhaps. By the way, the ship he came in on was The Canada. Built in France in 1911, it was rated at 9,648 gross tons and carried 2,166 passengers: 120 in first class; 196 in second class; and 1,850 in third class.
It should be noted that Pietro and Anna's daughter Marie was born in early June of 1919, which means that Pietro must have been in the U.S. at least nine months before then. This indicates that he only spent a short time back in Caulonia, if that's where he went.