Caulonia 1984
Marcia and I joined KUTV, the NBC affiliate in Salt Lake City in the spring of 1983. I was the executive producer and Marcia was an account executive (salesperson).
The sales department at that time had what it called sales incentive trips. If advertisers increased their budget by a certain amount of dollars the station would take them on trips to various places in the world. In October on 1984, the sales incentive trip was to Paris, France and Marcia qualified.
It was our job to entertain advertisers, go on tours with them, and to take them to lunch and dinner. We were pretty excited since this was the first chance we ever had to go to Europe. We didnít know if we would ever get this close to Italy again, so we decided that we would take a few days at the tail end of the Paris trip and go to Italy to try and find my roots. It was a good plan, but Marciaís boss said she was needed in Paris to handle clients.
It was decided that I should go on alone and that Marcia would meet me in Rome after the Paris trip was over. I made reservations to fly from Paris to Rome and from Rome to Reggio Calabria. There I would rent a small car and drive to Caulonia and to Altavilla before catching a plane back to Rome on Saturday.
On Tuesday, October 23, 1984 I left Paris and flew to Rome, arriving at 4:30 in the afternoon local time. I took a bus to the city center and a cab to the Hotel Columbus, which is near the Vatican. There was a general strike in the city and everything was closed. The only food I could get was from a street vendor.
On Wednesday the 24th I took a cab to the airport for 55-thousand Lira, which was about $30. By 1030 that morning I was in Reggio Calabria. I picked up the little car, a Fiat Lancia, and off I went along the Ionian Coast. I got to Caulonia about 230 that afternoon and started asking if anyone knew of the Carrocci family. They sent me to San Nicola, where I found Ilario Dichiera, who in turn helped me find Domenico Carrocci.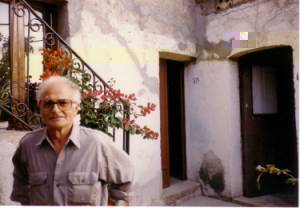 There are few free standing houses in this area. Most have common walls. Domenicoís house was two-story and very modest. They use bottled gas for heat and cooking and all the houses have running water. The dinner I had with Domenico and his wife was modest, but very good. I slept in a little room that was to Domenicoís left in this picture taken that day. Attached to the room were a bathroom and a shower.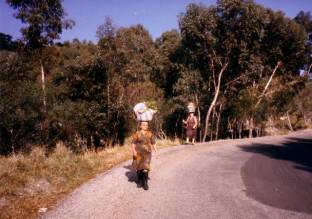 Thursday the 25th of October we drove to Caulonia and on the way saw these women walking down the road. I wouldnít be the least bit surprised that my father saw the same sights when he lived in Caulonia at the turn of the century. I donít think the town has changed much in the last 150 years, with the exception of electricity and running water. Some people still use firewood for heat instead of bottled gas and I didnít see many air-conditioners hanging in windows.
Needless to say, I was very excited as we pour through the records at the Caulonia town hall. I was surprised to learn that my host, Domenico was on the town council, which made it easier getting all the records I wanted.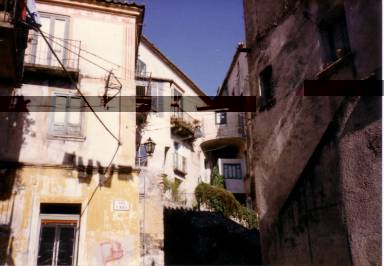 The records showed that Pietro was born on Vico Santa Maria, which is shown in this picture. It could be one of these houses or one nearby. There was no exact address. I spent until early afternoon getting information about Pietroís ancestors and looking at the street where he was born. I also learned that the Carrocci family had moved from Caulonia Superiore to Caulonia di Marina, which is down on the coast. With Ilario Dichiera as my interpreter, we found the Carrocci family home and gave them a huge surprise.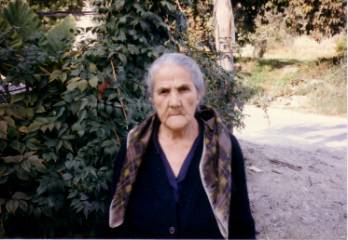 They immediately sent for Zia Angela, who still lived in Caulonia Superiore and she was delighted to see me, as you can tell from this picture. Sheís really smiling here. She kept touching my face and saying how much I looked like her brother Pietro. I felt very satisfied to have found my fatherís sister in Italy; in fact, I was amazed that I pulled it off.
There were quite a few people gathered around me and I felt like a celebrity. Little kids would touch my hands and smile at me.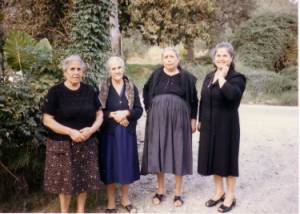 In this picture are Zia Angela and Zia Caterina on her left. Zia Caterina is Antonioís wife and heís my fatherís brother. On the right side of the picture is Carmela Cavallo Vozzo, Zia Angelaís daughter. The woman on the left is Caterinaís daughter.
I had a light meal with the family before heading off to Cosenza, where I hoped to have the same success. I couldnít find Altavilla before dark and had to spend the night in a small hotel near the airport at La Mezzia Terme.
Friday morning, the 26th of October I was up bright an early and on my way to the mountains above Cosenza. There I was able to find Altavilla.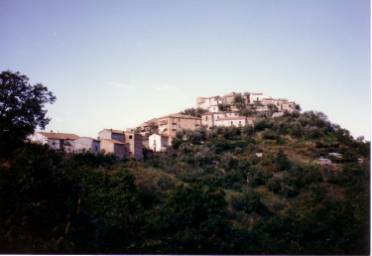 I drove through the town, looking for the town hall, but could find nothing. I had the letter that Annaís sister had sent to her which had the return address of San Benedetto in Guarano, so I went there. I couldnít find anyone who had heard of the Siciliano family until I bumped into one man who said he was related albeit distantly. With my poor Italian and his poor English we managed to get a few things across to each other.
He said his name was Alberico Napoli and that he lived in San Benedetto in Guarano. Alberico said his mother was Luigina Siciliano and that she was a cousin of Francesca Siciliano, who was my motherís sister. I have never written to him and I donít know if heís still alive.
Having struck out on my motherís side of the family, I headed back to Rome that Friday night and met Marcia the next morning when she flew in from Paris. We spent the day seeing the sights in Eternal City.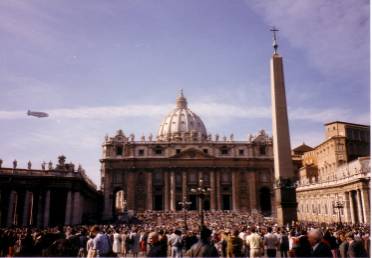 Our hotel was about a block from Saint Peterís Square, so that Sunday morning we joined the crowd. We were surprised to see the Goodyear blimp flying over St. Peterís, but there it was. We also saw Pope John Paul II appear at his apartment window and bless the crowd.
It was a very hectic and exciting week and we both were exhausted. We slept most the way on the flight home.