Acknowledgements
There are a number of people who have been instrumental in contributing to this family history.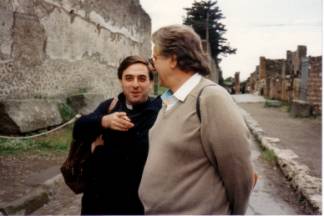 First there is Ilario Dichiera of San Nicola, Commune di Caulonia, Reggio Calabria. Ilario was the young man who helped me find Domenico Carrocci, who in turn helped me get the records from the Caulonia town hall during my trip there in October 1984. This picture was taken when I met with Ilario again in Pompeii, Italy in 1989. He was attending a seminary at the time to become a priest, which was his lifelong goal.
Ilario also helped interpret for me when I met family during that 1984 trip. He has been an important contact for me, helping with stories of the family in Italy. He is the one who first told me about my fatherís mother using her passage money to marry off her daughter.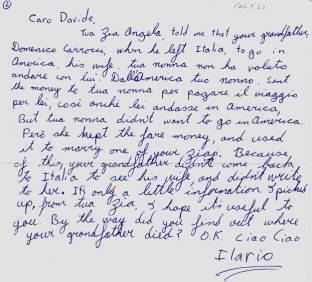 He would write to me part in English and part in Italian.
Ilario also told me about the two sons of Angela Carrocci Cavallo who immigrated to Australia. He sent their addresses. I wrote to them, but have not gotten an answer. I donít know when they went to Australia. I am still in contact with one of Zia Angelaís daughters: Carmela Cavallo Vozzo and I exchange Christmas and Easter cards. Carmela cannot write English, so we communicate only in Italian.
Next Iíd like to thank Eleanora Carrocci for her invaluable help in gathering information about the Carrocci family in Italy. It is through her efforts that we have all the names of the wives and children of Pietroís brothers and sisters. She even gathered the information on the fifth and sixth generations in Italy.
I established contact with Eleanora through letters and emails until 1991. We had moved from Denver to Phoenix and Eleanora was taking a summer class at Stoneybrooke College on Long Island, New York. Marcia and I sent her a ticket and she flew to Phoenix to meet us.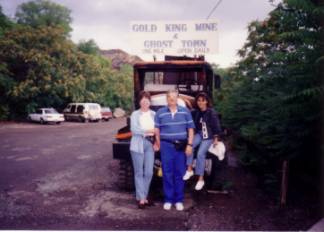 Marcia and I took Eleanora on a little tour of Arizona. One of the stops was at the old mining town of Jerome, where we had this picture taken. Eleanora was so excited at seeing so much of the southwest.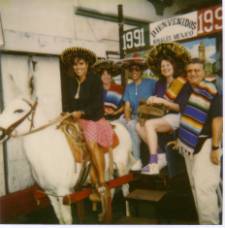 From Jerome and Prescott, Arizona we took her to Nogales Mexico, where we hooked up with Toni and Eric. Eleanora couldnít get over how we thought nothing of driving so far in one day. They just do travel that way in Europe. It was so much fun to see her excitement and enthusiasm.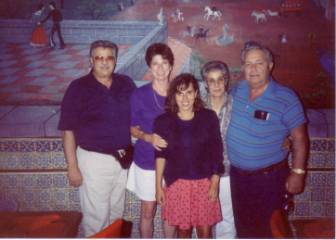 Eleanora was also pleased to be able to meet her cousin Theresa, shown here with Bob, Marcia and I. This picture was taken at a Mexican restaurant in Tucson. It was the first time our little signorina ever tasted food from south of our border.
Eleanora has since married and the last I heard is living in Bonn, Germany. I think that once a year she still returns to her family home in Caulonia di Marina. Whenever I need to contact her I write to the family home.
I also wish to thank the Church of Jesus Christ of Latter Day Saints for its help in finding Pietro Carrocci in the 1910 census. I did that at the LDS Church office building in Salt Lake City, Utah.
The LDS Church was also instrumental in entering all the immigration records on the Ellis Island website, which I used extensively in this history.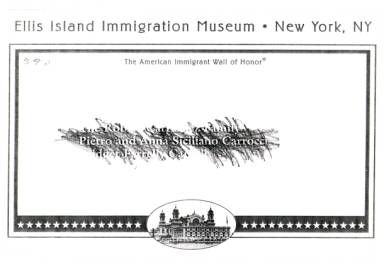 One of the things we did on one of our trips to New York was to put the names of Pietro and Anna on The American Immigrant Wall of Honor on Ellis Island. The above rubbing of their names was made on the following visit to New York City a couple of years later.
I think itís a wonderful thing to be able to go online and look through the records of the millions of immigrants who came through that national shrine. We may criticize the immigration officials who muddled the names, dates and home towns of some of the immigrants, but the fact remains that the names of there. All we have to do is use a little imagination.
Iíd also like to thank Marilyn Leehan of Ashtabula, Ohio who did the research for me on Annetta Sicilianoís first husband. She is the one who found Tony and Annie Basile in the Ashtabula directory in 1910.
Theresa Carrocci Bell provided me with many pictures and documents from the early days.
Virginia Scott Carrocci provided me with pictures of the family from the 40s and 50s.
Patti Carrocci Gorby was helpful getting information about Anna Siciliano Basil Carrocciís early days in Ashtabula.
Peter Martin Carrocci sent me copies of pictures he took when he visited the family in Caulonia di Marina, many of which I used in this history.
Noreen Carrocci Benson was a great help in helping me edit this document. Her comments were incisive and on the mark.
Toni Carrocci Rainey was helpful in reading through the history, making sure I sounded like I knew what I was talking about.
Vincent Peter Carrocci was a big help in keeping me on track with this fancy-assed computer and with inserting so many pictures into the history. I couldnít have managed without him.
And if thereís anyone else who assisted me who I failed to mention please let me know and Iíll fix it if and when I update the Carrocci Family History.
In closing, Iíd like to present some pictures of the Carrocci family in Caulonia di Marina.
This is the family compound.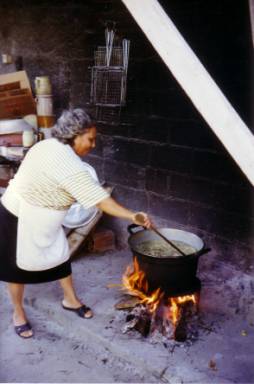 These pictures were taken by Peter Martin Carrocci during his trip to Caulonia di Marina. This is cousin Carmela making soup for lunch and demonstrates that some things do not change.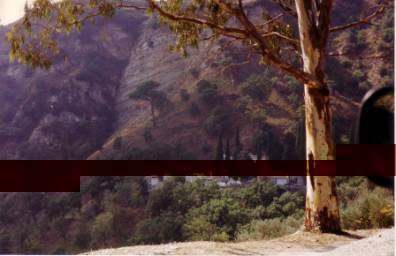 Another Peter Martin Carrocci picture, this one of a cemetery near Caulonia Superiore where some Carrocci family members are buried.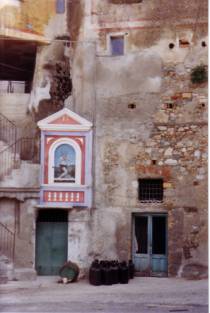 This picture is of the location where Domenico Carrocciís house once stood. This Domenico is the father of Pietro ďPeteĒ Carrocci.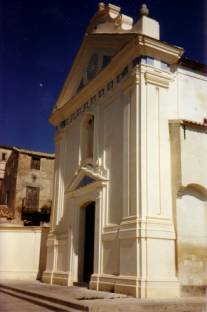 And this is said to be the church where Pietro Carrocci was baptized in 1889.
You will notice that Iíve used some pictures twice. Thatís because I donít have all that many picture from which to choose. If you have some that youíd like me to insert into the CFH, please send them to me. Itís easy from me to scan them in to my computer and Iíll send them back to you.